Tag: Fitbit
I'm a Fitbit'er…addicted to the core. If you don't know what that means, Fitbit is one of the fastest growing trends in fitness innovation. It's a pedometer that counts steps, has a altimeter to detect elevation or stairs, shows stats like calories burned and active time versus downtime (sleep).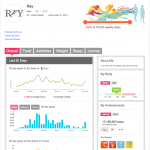 On Fitbit's website, everybody has a page my profile like Facebook, where you can add images and friends, it displays your stats that allows you to compete against family, friends, coworkers and anyone globally. Its fun, social, addictive, and motivational.
Go join for free on Fitbit.com, then buy one of their devices and start walking. It's one of the best ways to motivate daily walking or running by adding a fun element. Plus, it allows you to track your progress from day one. Once you have a page, you can join groups, start a group, add friends (or make new ones) and compete against each other. Warning, this level of competition is really addictive! When you start stepping, its amazing how many steps you accumulate in a day. Once you get going, in no time you will surpass 10k steps, which seems impossible at first. When you get to 10k, push for 12k, 15k and so on. At that point, you're officially Fitbit bonkers. It's so addicting that I never loose motivation to go running, because I'm always trying to outstep someone.
One thing to remember, joining Fitbit.com isn't only about competing, the community is a place where beginners and pros come together to support and motivate each other. There is a main support forum and individual group forums where you can reach out to others if you need help.
Fitbit is about motion, when you walk or run daily, you are progressing toward a healthier lifestyle, whether you do it competing with others or by yourself… it will change your life! If you need support, motivation, a friend or someone to race against, friend me.